The weather was perfect, and the barbecue grills were working hard for this past weekend's Crescent City Blues and BBQ Festival. Lafayette Square Park was packed as blues singers and players demonstrated their considerable skill. There was a little something for all types of listeners: solo players brought their laid-back stylings, and full bands had the audience up and dancing and singing along.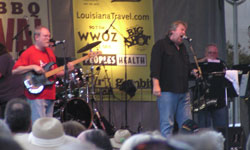 I was surprised at how family-friendly the event turned out to be. The volume levels were never overwhelming for the kids, and they never had a chance to get bored. If kids weren't dancing along, then they could find various stations were balloons were being handed out for donations.
And then there was the food! Barbecue grills lined an entire side of the park for traditional southern barbecue, Jamaican food, Vietnamese food, sausage, pralines, and sno-balls. I had a sausage po-boy for a very reasonable price, and the portions were hearty!
I'm marking my calendar now to attend the 2011 festival.
--Michael Roberts