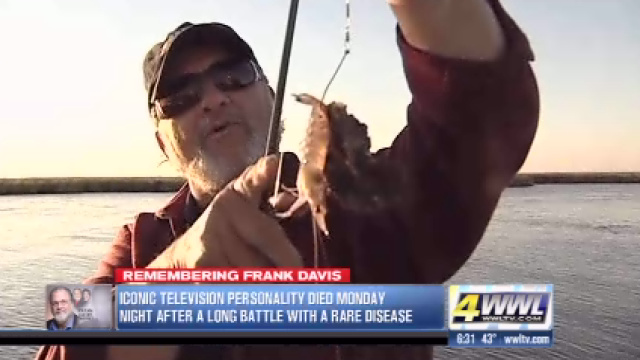 Photo courtesy of WWL
New Orleans local legend Frank Davis, a well-loved outdoorsman, culinary mastermind, and WWL radio and TV star, died Monday at the age of 71 from a rare autoimmune disease known as CIDP, Chronic Inflammatory Demyelinating Polyneuropthy.
Since the news of Davis's death was released, many of his fans have been posting beautiful farewell messages on his Facebook page:
Suzanne Bazajou: "Sure gonna miss ya, big guy! Keep it Naturally N'Awlins up dere, okay?"
Andre Alvarez: "New Orleans lost a big piece of history. R.I.P. Mr. Davis. You will be greatly missed."
Lillian Holley: "RIP: Chef Frank Davis - you are going to be dearly missed loved your cooking shows an recipes that you shared with us. i hated black eye peas until i used one of your recipes an i fix it every year for new years an tell everyone that don't eat until they try mine where the recipe comes from an they love it - well see you one day again "
Though many will miss him, his former colleagues will always remember his colorful personality, and as someone who always made his hard job look easy. According to WWL's Dominic Massa:
During his long career, Frank always said that his was the best job in local television, and his fans would no doubt agree.
His weekly appearances in the kitchen on the Eyewitness Morning News, his "Fishin' Game Report" and "Naturally N'Awlins" features brought him into thousands of viewers' homes over the years, where he was welcomed like family.
To the casual observer, it looked like anything but work, but colleagues knew the gift he had for capturing the essence of a story, while putting his story subjects at ease and making the job look like second nature.
"I learned a long time ago, if you want to be a success in life, first you have to find something you like to do, then you have to do it better than anybody else, and third, find someone to pay you to do it," he said in an interview. "I was fortunate to be able to do that at WWL."
When speaking to NOLA.com's Doug MacCash shortly after his death, Sandy Breland, now the general manager of Raycom's WAFB-WBXH station in Baton Rouge, said Davis's on-air personality was genuine:
"He was always the same," she said. "He loved to make people smile, loved to make people laugh, he was fun to be around. He always celebrated the things that were unique in New Orleans. He felt we had a special and unique culture. Frank always found an entertaining way to remind us what it was like to be, well, 'Naturally N'Awlins'."
WWL television anchorman Dennis Woltering said that it can be a challenge to get interview subjects to relax in front of the camera, but Mr. Davis had a knack for making people feel comfortable.
"Frank had a natural way. It was remarkable."
Visitation will be held at Honaker Funeral Home in Slidell Friday from 5 p.m. to 9 p.m. Relatives, friends of the family and co-workers are invited to attend the Funeral Mass at St. John of the Cross Catholic Church in Lacombe Saturday at 11 a.m.