Fall is one of our favorite times in New Orleans…cool air, football and so much fun. But packing for this time of year can be a little tricky. Get the most out of your vacation by packing like a pro.
Lightweight layers: When September rolls around, the days are hot, averaging 85 degrees—but nights can get a little chilly with temperatures dipping into the low 70s. And, as the months progress, temperatures vary with highs in the mid-70s and lows near 60. So, wearing light layers and having a sweater is comfortable and convenient.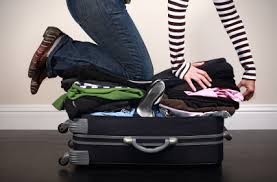 Comfortable shoes: With cooler temps and typically sunny skies, it's the perfect time to get out and see the city….but that can be a lot of walking so pack those comfy shoes. Don't worry—locals will be rocking the comfortable (and stylish) look around town too—everything from tennis shoes, boat shoe, ballet flats, flip flops.
Rain gear: Even though fall is typically New Orleans driest season, it still rains from time to time, so be prepared with an umbrella or rain coat!
Cash: In New Orleans, cash isn't just a convenience—it's a must. Whether you're looking to buy beautiful street art or at a local restaurant, you'll find several places are cash only.
Now you're ready to tack on the city like a local!