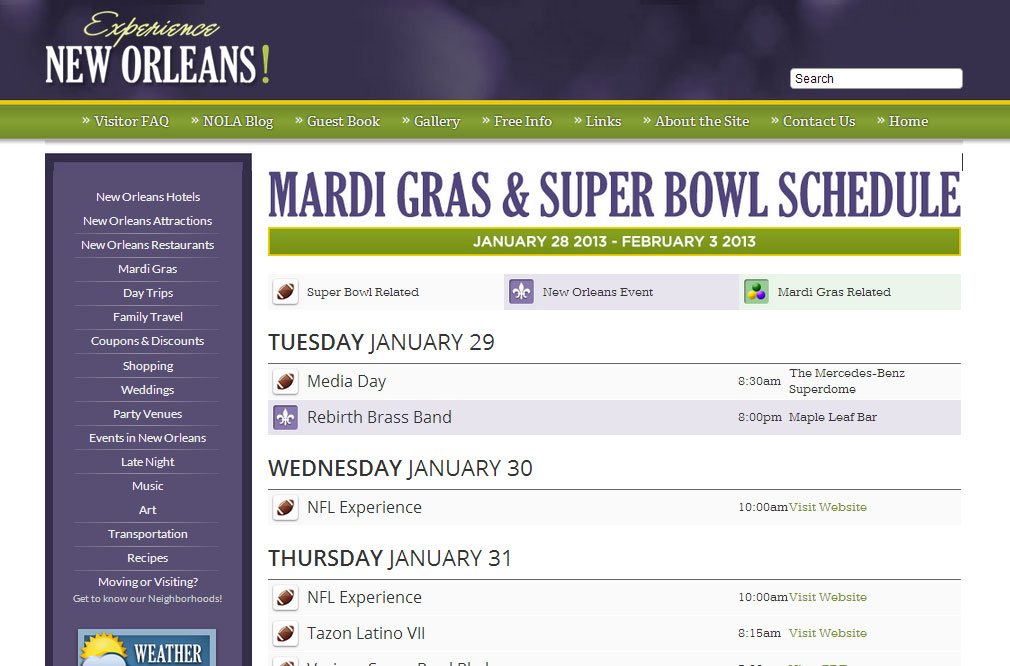 I hope you brought your running shoes!
The Super Bowl festivities are in full swing here in New Orleans. The problem isn't trying to figure out what to do. The real problem is trying to figure out what to skip because there are so many things going on and you can only be at one place at a time.
Highlights include everything from jazz performances featuring some of the Big Easy's favorite musicians to celebrity football games that include some of the biggest names in sports and television.
I put together a list of a few of the things on my todo list, but check out the ultimate Mardi Gras & Super Bowl Schedule to see a more detailed and comprehensive calendar of events for this exciting Super Bowl weekend.
Thursday, January 31
The two things that I don't want to miss today is the NFL Experience at the New Orleans Ernest N. Morial Convention Center, the other is Kermit Ruffins performing at Vaughan's Lounge. The NFL Experience runs until 10 p.m. Kermit takes the stage at Vaughan's at 8 p.m.
Friday, February 1
Mardi Gras meets the Super Bowl this Friday.
Family Gras kicks off in Metairie, it's a kid friendly Mardi Gras party with live music and a whole lot more. Then that night there's two parades in the same close by suburb. Both are a great ways to see what Mardi Gras is really all about like a local.
Football-wise, the NFL Experience continues on Friday, but there's also Verizon's Super Bowl Boulevard along the river front that includes live music a whole lot of food and live television broadcasts to see.
Saturday, February 2
Saturday there's more Mardi Gras parades happening all over the New Orleans region. Parades roll this day on the West Bank, in Chalmette and Metairie, all just a short drive from the French Quarter if you want to see them for yourself.
As far as football, the NFL experience continues and there's a Celebrity Beach football game.
If you're a night owl, you'll have to check out Snoop Dogg's 1 a.m. performance at House Of Blues.
Sunday, February 3
All eyes turn towards the big game. It's your last chance to take in the NFL Experience. Then gates open at 1 p.m. in Champions Square for the Game Day Fan festivities.
And of course the Super Bowl kicks off at 5:30 p.m. CST.
Overall, I hope you enjoy your stay in New Orleans. If you're looking for more things to do, check out this list of tourist things to do and how to do New Orleans like a local.