As the end of summer nears, it's time to get out and do all of the things you said you were going to do this summer, but never actually did.
Yes, you know who you are. "We'll go to the zoo this summer!" or "We'll try that restaurant with the nice patio while the weather is warm!" But you procrastinated. Well, lucky for you, you've still got some time. And not only that, but we're going to help knock off a couple of bucks!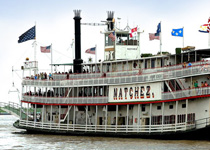 First on the list is list is the Steamboat Natchez. It doesn't matter if you're just visiting New Orleans or if you've lived here all your life, grabbing a meal on the Steamboat Natchez is something you should put on your to-do list. Right now, you can get $3 off the jazz day cruise and $5 off the dinner cruise by using this coupon. That's good for up to four adults in a single group!
The National World War II Museum is also offering a good deal, and it's for for kids and adults: $2 off adult tickets, $1 off senior citizen tickets, and $1 off child tickets. Special exhibits are always coming and going, so even if you've already been to the museum once, chances are you'll see something new when you go again.
When you get hungry, use one of these discounts:
Oceana Grill – 10 percent off your order with the purchase of an entrée
Huck Finn's Café – Free appetizer with the purchase of two entrees
Sugar House Restaurant – 20 percent off for purchase for up to four people
And when you're thirsty:
Bourbon Heat - Buy one drink, get one free
Café Beignet - Buy one daiquiri, and get one at half price (or free beignets with purchase of daiquiri!)
Mango Mango - Buy one daiquiri, get one free
Shopping discounts are always nice, too:
Maskerade – Free New Orleans magnet (one per family)
Bourbon French Parfums – 10 percent off any purchase

Most of these coupons are good through the end of the year, but double check the expiration date before using them just to be sure.
All of these coupons are courtesy of NewOrleansCoupons.com. For even more coupons to places around the city, visit their website now!