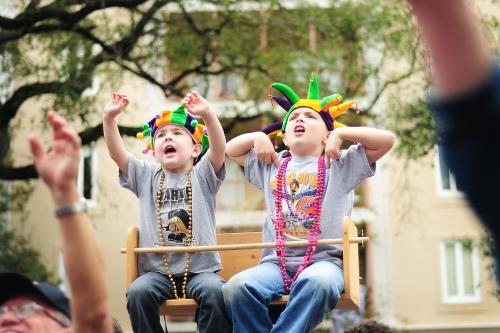 Too often people think that New Orleans is strictly a city for the adults. The truth is that it can be a very family friendly with the makings of a vacation getaway that kids from age 2 to 102 will love. With its many lush green parks, historic sights popular attractions, New Orleans can be a fun and educational vacation spot for the while family.
Audubon Zoo
A New Orleans family favorite is the Audubon Zoo and its more than 2,000 exotic animals. The zoo is home to the standards like gorillas and orangutans, but wait until the kids see the two white alligators and the extremely rare white tiger. They're sure to be wowed. Plan to spend at least a few hours strolling through the zoo, with all of its sights it could be a full day adventure. The zoo is located at 6500 Magazine Street, New Orleans, LA 70118 and you can find a coupon for the zoo at NewOrleansCoupons.com.
Audubon Aquarium
New Orleans is known for its seafood, which means there's also plenty of water life that surrounds it. The Audubon Aquarium shares that underwater world in a way that will keep the kids entertained and happy, plus they might even learn a thing or two. The Aquarium is the residence of 10,000 animals from 530 different species. The Aquarium features many exhibits including a 400,000 gallon Gulf of Mexico Exhibit filled with sharks, turtles and stingrays. The Aquarium is located at 1 Canal Street, New Orleans, LA 70130 and they also have a coupon at NewOrleansCoupons.com.
Swamp Tours
Within a short drive of New Orleans, there are vast waterways and miles of swampland waiting for your family to explore. A number of experienced swamp tour guides look forward to sharing the history, legends and beauty of these remote locations. Included in the tours are introductions with the local wildlife including, the ever popular alligator, which is what everyone really wants to see!
Steamboat Natchez
Step back in time with a cruise on the mighty Mississippi River with the crew of the Steamboat Natchez. The Steamboat Natchez is powered by an authentic steam powered steam wheeler and will take your family back into history to the 1800's when steamboats ruled the river. The boat sets sail from 1 Toulouse Street, New Orleans, LA 70130. See their coupon at NewOrleansCoupons.com.
Hotels
Of course if you're coming to vacation in New Orleans, you'll need a place to stay. You may want to consider hotels in the Central Business District, Garden District or the close suburb of Metairie. Generally speaking, these hotels are more family friendly, including being more affordable, quiet and spacious compared hotels in the other part of the city. Keep a look out for the hotels with pools, the kids will love a late afternoon while you get a chance to rest after a day of sightseeing.
So next time you plan on coming to New Orleans, whether for business or fun, bring the whole family, everyone will have a great time. Learn more about the family friendly side of New Orleans at NewOrleansKids.com, including a listing of free and cheap activities.