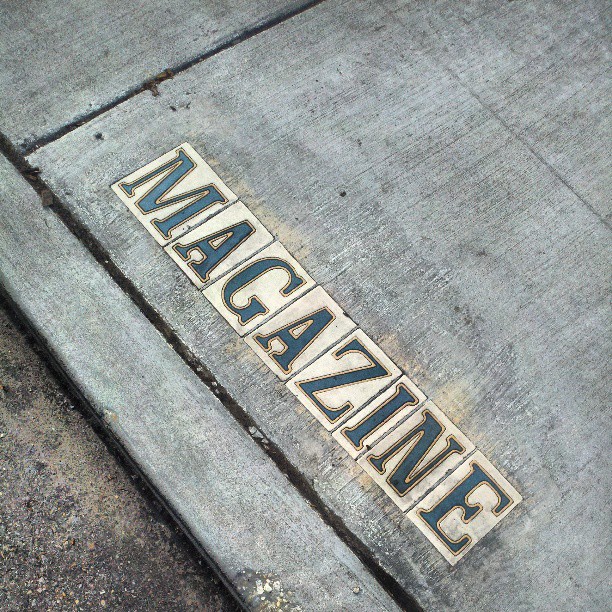 The French Quarter is always a popular place for people to visit when they're in town, and with good reason. There's a lot to do there – Bourbon St., cemeteries, live music, good food. You can spend an entire weekend in that one section of the city and never get bored.
That being said, there are other places in New Orleans that visitors either don't know about, or don't take the time explore. We're not knocking the Quarter, but there are other places you can go to get a true New Orleans experience. Magazine Street is one of our favorites.
Magazine Street runs through a collection of neighborhoods, and the crew of businesses that align it are pretty diverse. You'll find everything from bars and restaurants to local clothing boutiques and furniture stores. It's not as crowded as the French Quarter and it's just a streetcar or bus ride away. You'll find more locals strolling down these sidewalks, and the area has a charm and atmosphere all of its own.
Things to do
There are plenty of things to do along Magazine Street, especially if you're looking for family-friendly activities. The award-winning National WWII Museum is located here and there is always something new and moving to discover.
Many sightseeing tours pass down Magazine Street, and we suggest booking with City Sightseeing New Orleans. You can hop on and off a big red double-decker bus at designated areas all day long for one price. That means you can see New Orleans at your own pace, and with tour guides who know all the ins-and-outs of the city. They have a stop at the WWII Museum and another on Magazine Street where many of the shops, bars and restaurants are located. This is a great option if you want to spend some time in the area - and if you don't want to drive to do it.
The Audubon Zoo is also located off Magazine, making this street the perfect place to stroll down before or after your visit.
Where to shop
Where do we start? Magazine Street is five fun miles of retail therapy. You'll discover art and antiques. Clothing stores–new, gently used and vintage. Gift stores filled with unique jewelry, stationery, soaps and candles. And furniture stores galore. If only you could get an end table into a carry-on!Actor John Goodman's wife Anna Beth owns Pippen Lane, a sweet children's clothing store here, and Mad Men star Bryan Batt's Hazlenut has some fabulous finds (best smelling candles anywhere). Get out of the mall, y'all, and join the locals on Magazine.
Where to eat
Beyond the traditional Creole and Cajun cooking you find across the city, there are some great local eateries down Magazine serving cuisine from all around the world. You'll find Israeli, Thai, Indian and Italian. Speaking of the latter, Reginelli's has some of the best pizza in the city. Try the Smokin' Chicken pizza. It's not as spicy as it sounds, but the flavor is incredible.
If you like Mediterranean food, then Byblo's is the place to go. It's a casual sit-down spot with a great view of the hustle and bustle that makes up Magazine Street. The food is surprisingly good for standard Mediterranean cuisine. Do yourself a favor and order the cheese sticks appetizer. The combination of melted cheeses and pepper jelly is addictive.
Magazine Street is also known for it mamy coffee shops, filled with Tulane and Loyola students and shoppers with bags at their feet, taking a break. What a lovely way to spend an hour!
How to get there
If you're coming from the French Quarter, we recommend catching the #11 Magazine Street Bus at the corner of Canal Street and Magazine Street (at the corner of the Sheraton Hotel). You can get a one-day Jazzy Pass for $3.00 (just ask the driver). You can also take the St. Charles Streetcar and just walk a few blocks over.
Parking on Magazine Street isn't always easy, but it's not terrible either. Metered street parking hours are 8 a.m. to 6 p.m., and the rates are between $1 to $1.50 per hour depending on if you're in a regular or long-term parking area.
Don't forget about the side streets, though. You can often find parking in one of the many neighborhoods surrounding Magazine Street. Just be sure you are 20 feet from the corner, or you may find a ticket on your windshield when you get back.