There's no better place in the world to say good-bye to 2012 and welcome in 2013 than New Orleans! Between the parties, fireworks and everything else that the Big Easy has to offer, there really isn't any other place where you should be!
Crescent City Countdown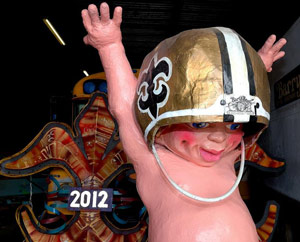 The highlight of the New Year's Eve celebration every year is the party on Decatur Street around Jackson Square and the fireworks over the Mississippi. I'm sure the countdown in Times Square is fun, but in New Orleans it's a real party without having to worry about the freezing cold temperatures.
More than fifty thousand people are expected to join in the celebration this year that starts with the heart pounding music of the Brassaholics at 9pm. Here's how the rest of the schedule looks for the evening.
9:00 - 9:40: Brassaholics
9:40 - 10:00: MCs
10:00 - 10:40: Mia Borders
10:40 - 11:00: MCs
11:00 - 11:40: Bonerama
11:40 - 12:00: MCs and countdown
At midnight, the city gathers around to watch the ball drop, an eight foot tall and five foot wide fleur de lis ornament that descents a twenty-five foot pole atop the Jax Brewery Condominiums.
After the ball (or should I say fleur de lis drop?), there's an appearance by the six foot tall "Baby New Year" wearing a purple and gold diaper for the LSU Tigers and a Saints helmet. Look towards the corner of the Jax rooftop for this special guest.
And it doesn't stop there! Before the show's over, there's the fireworks, a spectacular performance of light and sound over the Mississippi in the form of a 15 minute fireworks show from two twin barges in the river. The fireworks are set to music and include musical favorites and the fight songs of the Florida Gators and Louisville Cardinals.
More information at the Crescent City Countdown.
Stay tuned. Tomorrow, I'll have more information about the New Year's Eve happenings in New Orleans.