The Second Annual New Orleans Oyster Festival is this Saturday, June 4 and Sunday, June 5 from 11:45 to 7:30 each day.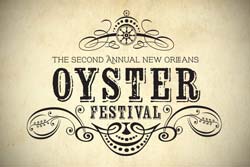 This weekend, you can get your fill of oysters at the Second Annual New Orleans Oyster Festival. Feeling adventurous? Jump in on one of the contests! See if you can beat out the fierce competition in the World Oyster Eating Contest.

Maybe your skill lies in shucking those oysters. No worries. Try out the Shucking Contest and prove who has the most skilled shucking hands in New Orleans!

All the while, you can enjoy the lovely sounds of several local musicians:


Treme Brass Band


Bucktown Allstars


Bag of Donuts


John Popper & the Dusk


Ray Troubadours





James Andrews Band


Big Sam's Funky Nation


Rockin' Doopsie, Jr.


Irma Thomas



And what would a New Orleans festival be without some great food? Check out this killer list of restaurants serving up culinary delights: Acme Oyster House (of course), Andrea's, Antoine's, Broussard's, Court of Two Sisters, GW Fins, Hard Rock Café, Oceana Restaurant, Royal House, Red Fish Grill, and many more.

The festival is free to enter and is located by the Mississippi River in the area between the Hard Rock Café and Jackson Brewery.

Whether you like your oyster cooked or raw, hot or cold, you need to be at the Festival this weekend!