Like most great things, the idea came about while sipping on a cocktail: A creative mix of art, celebrating women, locals and philanthropy. It's Festigals' Bodacious Bras for a Cause Luncheon and Auction, and "it just sounded like a great idea," said FestiGals founder Diane Lyons.
From "Pretty in Pink" to "Tales of the Cocktail," the stars of this June 21 event are none other than over-the-top, fabulous bras decorated by over 39 artists and celebrities. Artist Margo Dubos created "Bee Cup," in the spirit of a little chest humor. And if you like breakfast, then you might like "BRA-nch" by artist Tanya Boswell for Stella! And Stanley Restaurants: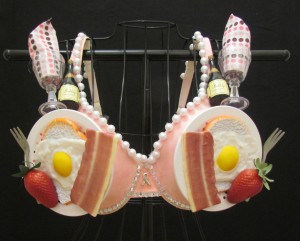 After a three course meal (proceeded by a complimentary Bloody Mary Mixer, of course) the bras are auctioned off, and 100 percent of the proceeds go to the Cancer Association of Greater New Orleans. Last year's event raised $25,000, and went to cancer patients for services like child care and anti-nausea medication – which insurance doesn't always cover.
Some of the bras are "stuffed," and not with toilet tissue from the girls' bathroom. The bidder who wins Wendy Vitter's stuffed bra will get a dinner for six with her husband, Sen. David Vitter, and Sen. Mary Landrieu. Others include anything from tickets to New Orleans sporting events to weekend getaways.
When asked which bra is her favorite, Lyons couldn't give an answer.
"They range so much, from absolutely gorgeous to over-the-top creative and funky, that it's kind of hard," she said. "It's like comparing apples to apples."
Online bidding for the bras began June 12 and ends June 21 at FestiGals' annual Bodacious Bras for a Cause Luncheon at Hotel Monteleone. Most will be a part of the silent auction, but eight to 10 of the particularly popular ones will be auctioned as part of the live bid.
Not local? Not a problem. If you want to participate in the live auction and can't make it to the event, than just bid online and include your phone number. Festigals will call you during the event and bid for you.
And while tickets stand at $75 each, it's a bargain once you consider what you're getting and how you're helping.
"It's a little more than you would spend going to lunch, but you're getting wine, three courses, and doing something for the good of others," Lyons said. "It's a party with a cause. All these people have given up their time and resources to decorate these fabulous bras so they can be turned into services for these women."
For a complete list of all the bras with details on their "stuffings," visit http://www.FestiGals.org.