It's spring in New Orleans, which means three things: summer is already here, Abita Strawberry is back, and there are a ton of events going on in the city!
We at Experience New Orleans don't want to miss a thing (looking at you, Steven Tyler), and we know you don't either--so here are ongoing and upcoming March fun and festivities:

French Quarter Wine Festival
Now in its sixth year, the French Quarter Wine Festival is a series of four-course dinners on Tuesdays and Wednesdays at Maison Dupuy Hotel's Le Meritage Restaurant. The Fest kicked off on March 2nd with a courtyard reception, and dinners continue through April 27.
Sample burgundy, bordeaux, shiraz, viognier, chardonnay, and wines made from grapes you haven't even heard of while enjoying Chef John Farrell's "Coastal South" cuisine. Many of the festival's featured vineyards are located on the West Coast in gorgeous destinations like Sonoma, California, and Willamette Valley, Oregon, while others make the trip from Alba, Italy and Mosel, Germany (also gorgeous destinations, in case that had to be said). (It didn't.)
So snag yourself a ticket or two, and raise a glass to the refined art of stomping grapes to death!
Inaugural New Orleans International Beer Fest
Wine not your thing? Then hop on over to Champions Square, where preparations for this Saturday, March 24's first New Orleans International Beer Fest are brewing.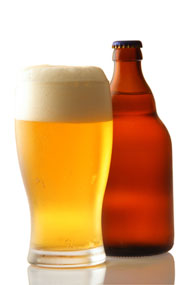 Cerevisaphiles (look it up!) can taste over 150 craft beers in a 2-ounce sample mug. The fest opens at 2:00 PM and runs until 6:00, giving you just enough time to spend four hours drinking beer.
Along with delicious beer sampling, Beer Fest also offers the Samuel Adams Brew University Education Area, featuring seminars like Cooking with Beer, How to Brew Beer and Beer and Food Pairing. It promises to be truly educational. In fact, here are some beer terms with which you may not be familiar yet:
Dunkel: German term meaning "dark." Usually used to describe German wheat beers, in contrast to helles, or "light."
Firkin: Unit of measure. 1 firkin = 9 Imperial gallons. What's an Imperial gallon? Who cares? It's a gallon of delicious beer.
Methuselah: 6-liter-capacity bottle, usually used for sparkling wine.
Nebuchadnezzar: 15-liter-capacity bottle. For those of you who don't know how much that is, it's a really big bottle.
Why are the last two named for the oldest person on Earth and a Neo-Babylonian king? Don't ask questions.
Sponsored by Abita (just another thing to thank them for), Beer Fest will also feature live music, games, and vendor booths. It's 21 and up, so don't bring your kids, but do bring a jacket in case this outdoor beer bonanza gets...drafty.
Tennessee Williams Festival
If you'd rather digest a good book than a good bock, head over to the 26th annual Tennessee Williams Festival. Honoring New Orleans' beloved playwright, the four-day fest presents literary panels, master classes, and more all over the city every spring.
Tennessee Williams Fest starts tonight, with a tickets-only event at the old U.S. Mint; to streamline your entry into future festival features, though, consider getting an All-Access Pass. Thursday is packed with panels at the Historic New Orleans Collection, Monteleone Hotel, Southern Repertory Theatre, and even an evening poetry slam at the St. Claude Healing Center's Cafe Istanbul.
Bring your brain for some stimulating intellectual discussion of Williams' works, or bring your lungs for the Stella and Stanley Shouting Contest, where participants bellow a la Brando for the chance to win prizes and prestige.
Wednesdays at the Square
The Young Leadership Council's free 12-week concert series began last Wednesday in Lafayette Square Park, and continues tonight! Wednesday at the Square starts at 5:00 PM and goes until 8:00 PM, rain or shine.
So bring your umbrella and come out this evening for San Francisco rock band Tea Leaf Green and Portland transplant Colin Lake, and support the Young Leadership Council by buying food and drink at the show. Local artisans also display crafts and artwork in the Artist Village near the Camp Street entrance.
In case you can't make it tonight (or you're allergic to rain), come out next week for Big Sam's Funky Nation and The Wise Guys!
This is by no means an exhaustive list--there are just too many events for one post! Stay tuned for more coming soon!
Experience New Orleans is on Facebook and @ExperienceNOLA