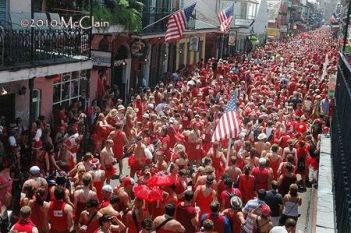 By 9:30 A.M. tomorrow morning the gates of Armstrong Park will be swarmed with individuals donning their most stylish red dresses. Notably, if not surprisingly, at least half of these fashionistas will be men (Yes, men in dresses, en masse, and Southern Decadence is still weeks away). By 11:00 A.M. the colorful mob of thousands will migrate through the streets of the French Quarter, consuming most of the alcohol in their path (No, the zombie apocalypse has not arrived).
Despite the befuddlement of outsiders, this event is actually quite jovial in nature, and has become an annual New Orleans tradition known simply as "The Red Dress Run" (Though one would caution not to be fooled by the name, this event is less a race, and more a decadent social festivity). Sauntering through the old city in the most spirited of ways & attire, New Orleanians have found yet another way to celebrate the joys of life, and in this case also support some good causes. Doubling as a fundraiser, the Red Dress Run was originally conceived to simply raise money and awareness for breast cancer (I suppose this explains the men in dresses?), but these days, the event supports a whole host of great causes, though certain to be unlike any other "Race for the Cure" type occasions you've been to. Only in the city that care forgot.
Sponsored by a local group known as the Hash House Harriers, the registration fee for the run is $70 (cash only). It goes on for most of the day (but then again when does the party ever stop in this city?) with a music schedule featuring Chasing Daylight from 12 noon to 1:30 p.m. and the Bucktown All Stars from 2:00 p.m. to 3:30 p.m. Lunch will be served by Corky's Barbecue at 1:00 p.m.
The event is open to those 21 and up, and a red dress is an absolute requirement. Fear not guys, if your closet is a little lean on red dresses these days, the Hash House Harriers will be more than thrilled to outfit you in the appropriate garb.
Hike up your skirts New Orleans, and let's get in step for a good cause. See you at the starting line, beer in hand!