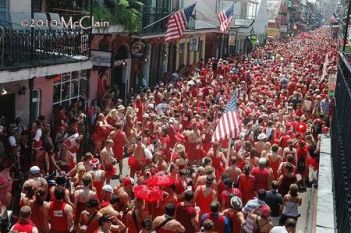 The August fun continues this weekend with even more back-to-back festivals in the city.
If you're out in the French Quarter Saturday, then you'll be seeing a lot of red. Not in an angry way – you will literally see a lot of the color red. Saturday morning kicks off the biggest Red Dress Run in the country. Guys and gals alike will be wearing red dresses (and holding red Solo cups) as they run from Louis Armstrong Park to some unknown location. The race usually snakes through the Marigny, but the exact race route is kept a close secret until the day of the event. The beer starts flowing around 9:30 a.m., and even though the run doesn't take that long, participants will be celebrating the event well into the evening. Just in time for Dirty Linen Night.
Taking place exactly one week after White Linen Night, Dirty Linen Night showcases that classic New Orleans quirkiness. For three hours, participating gallery and shop owners on Royal Street will serve dirty martinis and dirty rice, and even put laundry baskets outside their doors. Sure, they do this is hopes that you will purchase something, but it's fun none-the-less. Many local artists will even arrange for delivery of over-sized artwork to a specific address if you buy the piece in person.
If you're planning on going to either event, we would love to see and share your pictures. Just post them to our Facebook page or tweet them to @ExpNewOrleans. We'll be at both events, so check both places for event photos and updates!