There are a few foods that really define New Orleans, and the po-boy is one of those Crescent City essentials. So what do we do with something we love in Louisiana? We have a festival!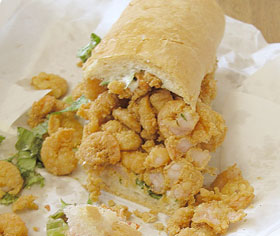 The Oak Street Po-Boy Festival is this Sunday, November 20th from 10 a.m. to 7 p.m. at the corner of Carrollton and Oak Street. Whether you walk, bike or drive, the festival can accommodate you.
You will not believe the variation that the food vendors are bringing to the po-boy. You can find all of the standards: sausage, roast beef, shrimp, and turkey. But you may be surprised at what else you can find. Try the Thanksgiving po-boy, the garlic shrimp po-boy, the pork chop po-boy, the Cochon de Lait po-boy, the roasted pork belly po-boy, Oyster Rockefeller po-boy, or the fried lobster po-boy!
With that much variety, it's safe to assume you'll be able to find something new to try.
The festival will feature three stages' worth of music and dozens of artists.
Get out on Sunday and enjoy yourself a po-boy at the Po-Boy Festival.