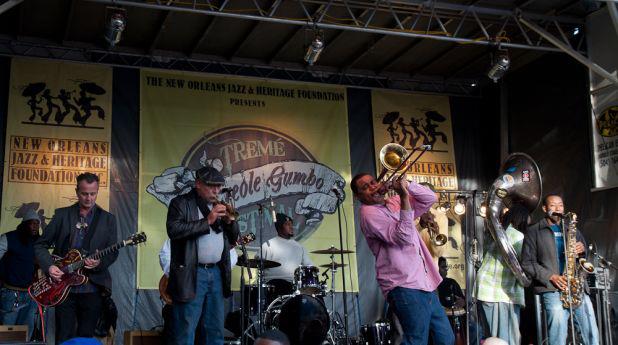 The weekend is here! And there's so much to do in the next couple of days that you should start making your plans now. This weekend is probably one of the best times in November to be in New Orleans.
Here are our recommendations for things to do:
We don't like to play favorites, but this is probably our favorite event happening this weekend. As we like to say, "come for the gumbo, stay for the music." There will be a wide range of brass bands, like the Treme Brass Band, Hot 8 Brass Band, and the all-female Pinettes Brass Band. And, of course, there will be lots of gumbo from some of the best restaurants and chefs in the city. There will even be a vegan gumbo contest with celebrity judges.
The festival begins Saturday at 11 a.m. and goes through Sunday until 7:15 p.m. Click here for a full schedule of the festival's events. Everything will take place in Louis Armstrong Park.
Just like how the Bywater is filled with character and culture, the Bywater's Mirliton Festival has tons of personality. The festival is named after and centers on a member of the squash family, the militon, which is shaped like a pear. For one day whole day (Saturday, Nov. 9), festival goers feast on appetizers, entrees and even desserts made from this vegetable, which was introduced to New Orleans by French and Spanish settlers during the 18th century. There will also be a great musical lineup.
Admission is $5 for adults and free for children under the age of 12. You can find the festival in The Brickyard at the intersections of Chartres and Montegut Streets. The festival will be happening between 11 a.m. and 7 p.m.
Louisiana Renaissance Festival
This weekend kicks off the Louisiana Renaissance Festival, which will be in full swing every weekend this month. Meet Queen Mary, learn how to make candles, watch a real jousting tournament, listen to the bagpipers, see impromptu sword fights, and more.
The only catch is that this event isn't actually in New Orleans; it's in Hammound, Louisiana, which is about 45 minutes away. The drive is well worth it though, especially if you're bringing the whole family!
Admission is $17 for adults, $10 for children ages 7-12, and free for children under the age of 7.