Posted on: October 4 2010 | Posted in:
New Orleans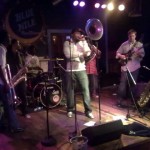 [/caption]
Recently on Sunday nights I have passed by the Blue Nile on Frenchmen St. to check out a new band called Main Line. After a day of football and hopefully a Saints win, it has been a great way to end the day. The show is always free and always funky. This week was a real treat as 50 Cent and Chelsea Handler sat in the audience. 50 Cent not only enjoyed the performance but he also got up on stage to join in for a song. Thanks to the guys in Main Line for always making a great night.
Sunday Night Brass every Sunday @ The Blue Nile 532 Frenchmen St.
[/caption]
Main line is Edward Lee - Leader, Tuba
Erion Williams - Saxophone
Julian Gosin - Trumpet
Paul Robertson - Trombone
Corey Peyton - Trombone
Charles James - Keyboards
John Dobry - Guitar
Jermal Watson - Drums