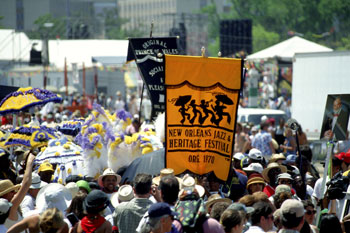 Jazz Fest (follow the link for more Jazz Fest info.) kicks off in just four days! Are you ready?
I know that I am! I've been looking forward to Jazz Fest last year! If this is your first Jazz Fest, here are a few things that you need to know.
Music
Here's a the headliners for each day, as well as a few other picks. Don't limit yourself just to the bands you know or the artist you think you might like. Get out there and explore all of the stages, I have a feeling that you might just have the best time getting to know the bands you've never heard of before.
Friday, April 26 Headliners
Opening night headliners include John Mayer and the Band of Horses, but don't forget to check out Jazz great George Benson, as well as Dr. John.
Saturday, April 27 Headliners
Billy Joel , Ben Harper and Jill Scott take over the main stages, but don't miss Rebirth Brass Band and Allen Toussaint earlier in the day.
Sunday, April 28 Headliners
The Dave Matthews Band, Earth Wind & Fire and B.B King are the headliners, but instead, you may want to check out Treme Brass Band's Tribute to Uncle Lionel Batiste.
Thursday, May 2 Headliners
The most popular day with locals features The Dirty Dozen Brass Band, Glen David Andrews and is headlined by Widespread Panic and Patti Smith.
Friday, May 3 Headliners
Friday features the music Willie Nelson and Maroon 5. It doesn't get much more diverse than that! Also that day, keep an eye out for Marc Broussard and the Stooges Brass Band.
Saturday, May 4 Headliners
Catch Fleetwood Mac, Phoenix of Frank Ocean Saturday night. Of course, you have to add the Preservation Hall Jazz Band, Galactic and Cowboy Mouth to your schedule for that day.
Sunday, May 5 Headliners
The last day features Trombone Shorty, Aaron Neville, Maze featuring Frankie Beverly, Irvin Mayfield and the Black Keys. Don't miss Ellis Marsalis sneaking in for a performance at 1:25 pm at the Zatarain's/WWOZ Jazz Tent and Pete Fountain at 4:35 at the Peoples health Economy Hall Tent.
Food
Mmm, food. You better come hungry, there's everything from Boiled Crawfish to Pecan Catfish Meuniere to Strawberry Shortcake. Make sure to save some room for the Crawfish Bread, a snack that was once only made at Jazz Fest.
Crafts
There will be three areas for crafts each with a distinctive style. There's the Congo Square African Marketplace, Contemporary Crafts and Louisiana Market Place.
Parking
Now, it's time to think about the not so fun stuff. Parking would be the number one not so fun item! There is parking around the Fair Grounds, some free and some paid. It will be a mess and be prepared to grab the first spot you see. This is no time to be picky.
You can avoid the parking by taking the Jazz Fest Express from Gray Line that takes you from either two downtown locations or from City Park. More details here. It might be your easiest bet.
There will also be taxis, as well as buses and the streetcar. Expect them to be busy and full, so be patient. You'll get there and get home as quickly as possible.
Sunscreen
The weather is looking like it will be perfect for the first weekend. I'm hoping the same for the second. It's going to be sunny and there isn't a lot of shade, so make sure you bring your sunscreen and keep putting it on throughout the day.
Hotels
Normally, I recommend to book a hotel room at least six months in advance for Jazz Fest. However, I'm hearing that you might get lucky. There are some rooms available here and there, if you want to make a last minute trip. Visit our sister site, Best New Orleans Hotels to look up room availability.
If you can't make it this year, stay tuned to the Experience New Orleans Facebook. We'll be posting pictures and more.