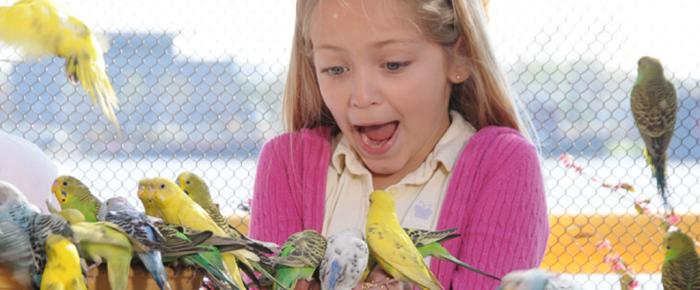 Every Fourth of July, families across the nation gather for picnics, fireworks, and overall quality time. If you're spending the holiday, then you can still do all of those things, but with a little local flair. Plus, some of the city's best attractions will be offering up their best deals to celebrate.
Here's what we recommend you do you this Independence Day:
The Audubon Aquarium of the Americas and the Audubon Butterfly Garden and Insectarium
The Audubon Aquarium of the Americas and the Audubon Butterfly Garden and Insectarium are offering $4 off tickets for adults and children this weekend.
The Butterfly Garden is especially magical for kids, as colorful butterflies swoop from one flower to another, making pit stops on guests' shoulders in between. What kid wouldn't love that?
Parakeets and penguins are just a couple of the stars at the Audubon Aquarium of the Americas. With multiple hands-on exhibits, the aquarium is more than looking at fish through glass. One of our favorite activities is watching the penguin feedings at 10:30 a.m. and 3 p.m. every day. The penguins are especially wiggly around this time, so guests get a great show.
And if you're looking for a cuteness fix, then you're in luck: The penguin colony just a little bigger. Three endangered African Blackfooted penguin chicks recently hatched, so guests can watch them waddle, hope, dive and swim as they feel out their flippers.
The Steamboat Natchez is offering $5 off tickets for the 11:30 a.m. and 2:30 p.m. Harbor Jazz Cruise, and $10 off Dinner Jazz Cruise tickets.
The Harbor Cruise is two hours round trip, and includes a Calliope concert! The Dinner Jazz Cruise is a little more romantic, featuring a great view of the New Orleans skyline and all the local cuisine you could ask for.
All Steamboat Natchez cruises depart from and return to the heart of the French Quarter, so shopping, food and fireworks are never far off.
Click here for the coupon.
Get ready to see one of the best Fourth of July fireworks show in the nation. Really – it was ranked the 5th "must see" fireworks display in the U.S. by the American Pyrotechnic Association.
Set up camp anywhere along with river front, and you'll have a great view of the fireworks reflecting over the Mississippi River. What makes this show special is that the fireworks are being shot from two barges, side by side. Have you ever been to a dueling piano bar? It's kind of like that.
The fireworks begin at 9 p.m. Be sure to bring your radio, though. Magic 101.9 andWWL AM 870/FM 105.3 syncs patriotic music to the fireworks.