Keeping cool in the New Orleans heat and humidity can be a challenge. But if you're visiting the Big Easy this summer, don't worry –there are there are plenty of things to do and see while you beat the heat. Here are a few of our favorite activities to help you keep your cool and enjoy New Orleans!
NOLA Flyboarding
Feeling adventurous? Experience the thrill of a lifetime with NOLA Flyboarding as your childhood dreams of flying come true. This well-kept local secret will keep you feeling 22 (and cool) as you literally soar above Lake Pontchartrain. Bring your friends, and they'll bring the gear and the excitment.
Audubon Nature Institute
The Audubon Aquarium of the Americas along the Mississippi offers countless aquatic activities, over 10,000 animals, and interactive exhibits for the whole family. Take in a documentary or feature film at the adjacent IMAX Theatre. Five and a half soaring stories high, IMAX is a movie-watching experience unlike any other--think enormously vivid visuals, thunderous surround sound, and perhaps best of all, a dark, perfectly chilly theater. Then hop the St. Charles streetcar line and head to Audubon Zoo because it's "cooler" than ever this summer with Gator Run, a lazy river that's 750 feet long, 10 feet wide, and 3 feet deep. With two sand beaches and four water cannons, it's the newest addition to the Cool Zoo.
Steamboat Natchez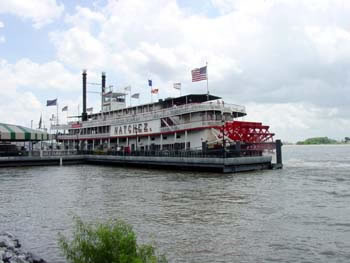 Later in the afternoon, when it starts to cool down a bit, walk along the river to the landing dock. A dinner cruise on the Steamboat Natchez with live jazz is just the ticket for a New Orleans summer evening: dance to the musical stylings of the Grammy-nominated Dukes of Dixieland after dinner. A variety of frozen adult beverages are just the thing to combat the heat.
Share your favorite ways to stay cool on Facebook, Twitter or Google+!